I am prejudiced.
I am not proud of it.
I wish I weren't.
I won't go into the details about which groups of people I hold prejudgments toward. Let's just say I have an average number of prejudices, some common, some not so much. I wasn't raised to be prejudiced - in fact, my parents (especially my mother) were rather strict about the subject and clamped down on any utterance that came from me while growing up that even brushed up against the bias fence, whether the issue was color, gender, smarts, looks, physical stature, whatever. I was brought up to know that it is
wrong
, and I believe it is
wrong
to this day.
And yet I am prejudiced anyway.
I could try and defend it by saying that all of my prejudices have come from real-world experiences. And in fact, they have - real world experiences with
specific
individuals which I then have wrongfully generalized to whole classes of people. That is why I find this
xkcd
cartoon so moving: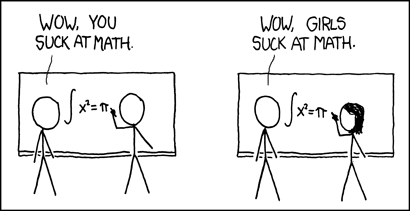 As a father of four daughters I feel
anger
at anyone who would generalize "girls suck at math" from one observation. Yet often my own prejudices are based on no more data than that, perhaps with some assistance from the media and my own culture's expectations. Still, no excuses.
This isn't to say that culture doesn't matter, that there aren't observable differences between different groups of people, often self-defined and self-enforced by the group. Denying that would be a stupid thing to claim and I reject anyone who tries. Nor am I saying that I believe that there are no material differences between cultures, that "It's all good". More to the point I believe it would be more correct given Man's fallen nature to argue "We all suck" (and that includes my own culture). Even so I reject most post-modern approaches that approach life as if there is no ultimate truth, there is no ultimate good, there is no ultimate knowledge - in my opinion such an approach rejects the existence of God,
by definition
. So I can look at a culture and identify good things
and
bad. And since a culture is nothing more than the grouping of people who self-identify with a given set of norms, behaviors, attitudes and actions, one could almost argue that prejudice is nothing more than a clear-eyed observing of the bad parts.
But the point is this - we can have an awareness of things that
may
be negative (if we feel we're qualified to judge such things), but we must never generalize such an awareness so that we prejudge any specific person. To turn it around a little, I like how
Kay
says it in
Men in Black
:
A person is smart. People are dumb, panicky dangerous animals and you know it.
Jesus requires us to look around us and not see people - He wants us to see
persons
. Lots and lots of
persons
. All in the image of God. Jesus is a
person
. He wants us to have a
personal
relationship with Him. And by following Him we are to have a
personal
relationship with everyone else, too. Every
one
else, too. Prejudice is the antithesis of that. It gets in the way of a
personal
relationship with someone because of the group of people they are in. It kills love before it has a chance to take root.
Therefore I must work to conquer it. May the three persons of God, Jesus and the Holy Spirit help me do just that.